"This seems to be dangerous." – Einer der Sätze, die das Phänomen "Jackass" seit seinem Start auf dem Sender MTV im Jahre 2000 begleiten und die gleichzeitig zum Programm für verschiedene Formate im Fernsehen und seltener im Kino geworden sind. "Jackass", seine Spinoffs und Epigonen (die von "Kenny vs. Spenny" im Prinzip bis "Ich bin ein Star, holt mich hier raus!" reichen) stellen dabei eine seit Beginn des 21. Jahrhunderts zu beobachtende neue, forcierte Strategie der Somatisierung und Deprivatisierung von Fernsehästhetik dar. Dass "Jackass" darüber hinaus auch im Kino erfolgreich ist, wird weniger auf seine formale Ästhetik denn auf seine Körperpolitik zurückzuführen sein. Deutlich sichtbar wird die vor allem am jetzt in die Kinos kommenden dritten Sequel "Jackass 3D".
Abermals präsentiert Regisseur Jeff Tremaine die bekannte und sichbar "reifer" gewordene Gruppe von Stuntmen, in deren Zentrum Johnny Knoxville steht. Wie schon beim zweiten "Jackass"-Film belässt der neue Teil es nicht bei der bloßen Aneinanderreihung von Episoden, sondern versucht auch "Candid Camera"-Situationen einzubauen, bei denen nicht nur Passanten, sondern die eigenen Crewmitglieder gefoppt werden. So sehen wir Bam Margera mit einer "Coverstory" (bei der er einem anderen Protagonisten einen Boxhandschuh-Faustschlag versetzen soll) angelockt in eine Schlangengrube stürzen oder gleich zu Beginn eine ganze Reihe "Jackass"-Mitstreiter durch eine riesige Schwungfeder-Hand nieder gestreckt werden. Dass dabei nicht nur die Darsteller, sondern auch die Crew (insbesondere die Kameraleute) in den Fokus rücken und zu Opfern der Scherze werden, ist die erste Form der "Entgrenzung" des "Jackass"-Formates – sozusagen auf der ontologischen Ebene, denn das Komik-Prinzip greift damit auf die Produktion selbst über und sabotiert sie.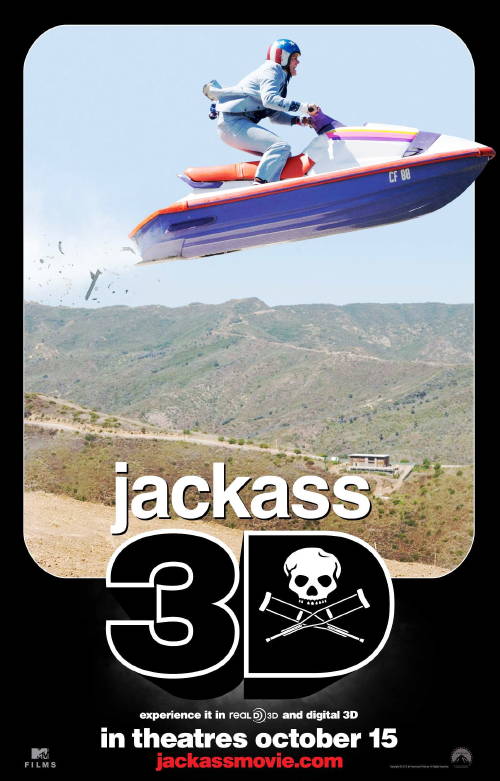 Die zweite Entgrenzung findet sich in der 3D-Optik des Films. Fragt man sich zunächst, welche Möglichkeiten das "Jackass"-Format für die derzeit immer häufiger verwendete 3D-Technologie bieten könnte, wird schnell klar, dass die Adressierung des Zuschauerkörpers hierin natürlich ihre Apotheose (zumindest in den Möglichkeiten des Kinos) feiert. Wenn im Slapstick-Film bei einer Tortenschlacht die Torte auf die Kamera zufliegt, dann ist der Schreck für den Zuschauer nur minimal – wenn im Vor- und Nachspann von "Jackass" ein Raum explodiert und in Zeitlupe die Darsteller, Möbel, Steine und Scherben durch den Raum fliegen, dann ist der Zuschauer "scheinbar" mit in diesem Raum; er seziert die Situation, als würde er einen Witz von allen Seiten betrachten, in dem er selbst der Gegenstand ist.
Dieses Verfahren erreicht seinen Höhepunkt in Szenen, in denen "Jackass" die Verfahren des "body genres" am intensivsten einsetzt – also jenen, in denen es um Körperflüssigkeiten und andere Motive des Abjekten geht. Man ist in Sequenzen wie der über den "Sweat Suit Cocktail" zwischen Lachen und Würgen hin und her gerissen. Ähnliches gab es zwar bereits in den Vorgängerfilmen zu sehen (man erinnere sich an die "Horse Sperm"-Episode aus "Jackass Part Two", in der Bam Margera einen Becher Pferdesperma trinkt und Steve-O sich neben ihm ob des Anblicks übergeben muss), hier führt jedoch der räumliche Anschein dazu, dass man als Zuschauer nicht nur über die narrative Immersion, sondern über die räumliche Tiefensuggestion "mit dabei" ist und – abermals mit Steve-O – zusammen würgen darf.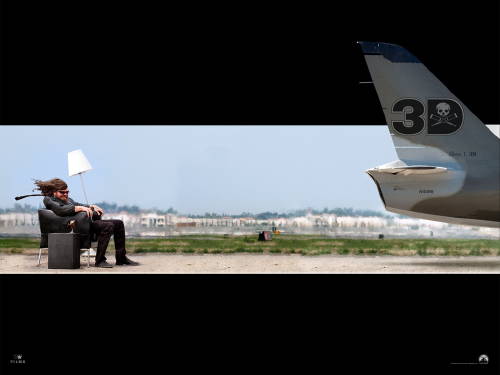 "Jackass 3D" erhält gerade über die Dreidimensionalität des Bildes in Verbindung mit solchen extremen Body-Genre-Motiven den Charakter einer "4D"-Erfahrung: Diese zuvor als "Senseorama" erfolglos in den Kinos zu lancierende multisensorische Filmvorführung, bei der das Gesehene zugleich auch gehört, gerochen und gefühlt werden kann, hat allenfalls auf Jahrmärkten überlebt. Dort finden sich Filmvorführungen auf Großleinwänden mit beweglichen Stühlen, die dem Zuschauer das Gefühl totaler Immersion geben, also "mittendrin" statt nur dabei zu sein. "Jackass 3D" erreicht diesen Effekt auf bestmögliche Weise ebenfalls. Dass er damit allerdings nichts besonders Neues, sondern im Gegenteil sogar etwas besonders Altes vollführt, ist als Stärke des Formates anzusehen. Mit "Jackass 3D" wird Kino wieder zum simuliert multisensorischen Jahrmarktvergnügen.
Jackass 3D
(USA 2010)
Regie: Jeff Tremaine; Buch: Preston Lacy; Kamera: Lance Bangs, Dimitry Elyashkevich, Rick Kosick
Darsteller: Johnny Knoxville, Bam Margera, Ryan Dunn, Steve-O, Jason Acuña, Preston Lacy, Chris Pontius, Ehren McGhehey, Dave England u. a.
Länge: 94 Minuten
Verleih: Paramount
Start: 28.10.2010