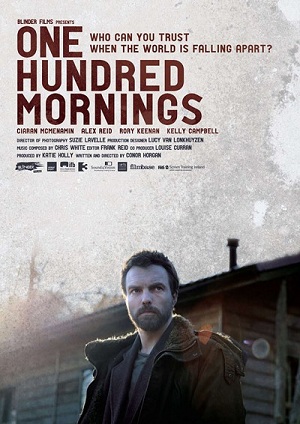 Im Ausnahmezustand gibt es weder Recht noch Unrecht, da alle Gesetze wirkungslos sind und durch die Willkürherrschaft des Stärksten ersetzt werden. Das Ordnungsprinzip einer zusammen gebrochenen Gesellschaft beruht nicht mehr auf sozialem Status, moralisch gebundenen Verhaltensregeln und dem Primat des Intellekts – was zählt, ist allein die physische Stärke, die Fähigkeit zur Ausübung von Gewalt und Zwang. In Conor Horgans post-apokalyptischem Drama "One Hundred Mornings" ist dieser Zustand eingetreten: Thomas Hobbes' Kampf aller gegen alle hat begonnen, die Menschheit ist zum längst überwunden geglaubten Sozialdarwinismus zurück gekehrt. Survival of the fittest, so heißt das neue, uralte Gesetz.
Zwei befreundete Pärchen – Jonathan (Ciarán McMenamin) und Hannah (Alex Reid), Mark (Rory Keenan) und Katie (Kelly Campbell) – haben sich in einer Waldhütte verschanzt, ohne Waffen und mit begrenzten Nahrungsreserven. Das Stromnetz ist längst kollabiert, es ist kalt und dunkel in der Hütte und inmitten des hilflosen Wartens und Hoffens auf die Wiederkehr der Zivilisation setzt bald der Lager-Koller ein. Die ständige Präsenz der Anderen wird zur psychischen Belastung, die zahllosen Entbehrungen zehren zusätzlich an den Nerven und offen gelegte Beziehungsprobleme lassen Misstrauen und Aggressionen wachsen. Als dann auch noch die Polizei vorbei kommt und im Stile von Gangstern mittels Waffengewalt die Vorräte plündert, droht den vier Protagonisten der Hungertod. Selbst Tim (Robert O'Mahony), der einzelgängerische Hippie von nebenan, hat seine altruistischen Ideale verraten und leistet keinerlei konkrete Hilfe. Jonathan und Mark sehen sich gezwungen, ihn nachts zu bestehlen – doch einer von ihnen wird mit seinem Leben dafür bezahlen.
Horgan benennt den Grund der eingetretenen Katastrophe nie – und gerade dadurch entfaltet der Film seine beängstigende Wirkung. Statt den persönlichen Horrorszenarien des Regisseurs ausgeliefert zu sein, füllt jeder Zuschauer dieses kausale Loch mit seinen ureigenen Ängsten. Ob Atomkrieg, Terrorismus oder Staatsstreich – mögliche Ursachen für den Ausnahmezustand gibt es genug.
"One Hundred Mornings" illustriert den Zusammenbruch der Gesellschaft angenehm unspektakulär: Das Ende der Welt wie wir sie kennen verläuft ohne Schießereien, Schlachten oder Seuchen. Es bedeutet einfach nur den Verlust von Mitmenschlichkeit, Kultur und Licht. Entsprechend dunkel sind die Bilder dieser düsteren Zeit – Suzie Lavelles Kamera kaschiert die bei den Dreharbeiten genutzten künstlichen Lichtquellen äußerst geschickt. Auch ihre ruhigen Landschaftsbilder voller entsättigter Farben, verdorrter Bäume und verfallender Behausungen spiegeln die graue Hoffnungslosigkeit dieser dystopischen Zukunft wider.
Horgans Drehbuch wiederum evoziert eine fast klaustrophobische Bedrückung, da es den uns zumeist mit den Figuren auf engstem Raum einschließt. Von der Außenwelt sehen wir kaum etwas – stattdessen zeigt uns der Film, wie sich die Menschen mit zunehmender Dauer des Zivilisations-Kollapses wieder dem Naturzustand annähern, indem sie rituell anmutende Tänze um eine Feuerstelle veranstalten und ihrem Aggressionsdrang immer stärker nachgeben. Gewalt und Triebe schlagen sich beständig breiter werdende Schneisen in das brach liegende Feld der Kultur.
Passend zum narrativen und stilistischen Reduktionismus des Films setzt Horgan kaum Musik ein. Als Jonathan ihr zum Geburtstag einmal das Musik-hören ermöglicht, hält Hannah dies kaum aus, da es sie an all das erinnert, was verloren und unerreichbar erscheint. In dieser stillen Reduziertheit, seinen symbolischen Landschaftsaufnahmen und seiner pessimistischen Sicht auf die conditio humana, aus der die Apokalypse erwächst, ähnelt "One Hundred Mornings" vor allem Michael Hanekes "Wolfzeit" und dem 2010 etwas untergegangenen Film "The Road".
One Hundred Mornings
(IRL 2009)
Regie: Conor Horgan; Drehbuch: Conor Horgan; Kamera: Suzie Lavelle; Schnitt: Frank Reid; Darsteller: Ciarán McMenamin, Alex Reid, Rory Keenan, Kelly Campbell;
Länge: 85 Min.
Verleih: Blinder Films