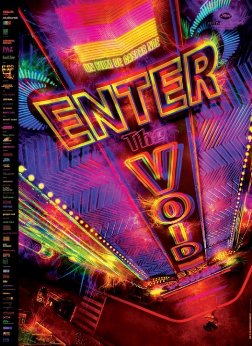 Natürlich ist es ein Fluch, nach einem Film wie "Irréversible" weitermachen zu müssen. Mit seinem Meisterwerk hatte Gaspar Noë im Jahr 2002 schließlich nicht nur einen der ganz zweifelsohne bedeutendsten Filme des letzten Jahrzehnts inszeniert, sondern im Grunde gleich eine ganze Entwicklungslinie der Kinogeschichte an ihren schlüssigen Endpunkt geführt und ganz buchstäblich zur Explosion gebracht. Sieben Jahre lang schwieg Noë im Anschluss an seinen großen Wurf, von einer Handvoll eher als Stilübungen zu begreifender Kurzfilme abgesehen. Nun liegt mit "Enter the Void" sein neuer, mit einer Spielzeit von knapp 160 Minuten nur als monumental zu bezeichnender Kinofilm vor. Und das ist er sicherlich im allerwörtlichsten Sinne: ein KINOfilm, begriffen als somatische Rauscherfahrung.

Den überaus affektiven Inszenierungsstil seiner früheren Werke hat Noë selbstverständlich beibehalten, und auch die entfesselte Kamera scheint, neben einigen einleitenden Struktur- und Bildzitaten, direkt aus "Irréversible" herüber geschwenkt (wie ja dieser auch schon selbst durch seinen Prolog an Noës ersten Langfilm "Seul contre tous" zurück gebunden war, der wiederum die Geschichte des Protagonisten aus dem halblangen "Carne" fortschrieb). Allerdings scheint "Enter the Void", den mit hyperbeschleunigten Schnitten, aggressivem Techno und Stroboskopeffekten in den Schädel gehämmerten Vorspanncredits zum Trotz, merklich sanfter als der rabiate, als terroristischer Angriff auf das Publikum angelegte Vorgänger, zu dem er sich spiegelbildlich verhält. Wo die anhand einer Mittelachse gefaltete, chronologisch umgekehrte Erzählung von "Irréversible" den Kern des Todes im Ursprung des Lebens freizulegen suchte und das Leben somit als ein Leben zum Tode hin begriff – le temps detruit tous, die Zeit zerstört alles – geht es "Enter the Void" um die Idee einer Neuschöpfung von Leben aus dem Moment des Todes heraus – jedem Ende wohnt ein Anfang inne.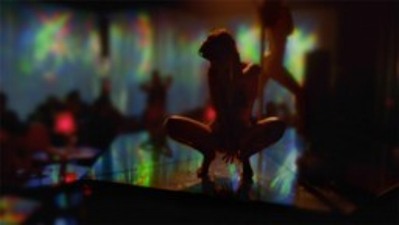 Das mag nach dem destruktiven Furor von "Irréversible" zunächst ein wenig überraschen, folgerichtig ist es im Grunde doch: ging es doch bereits in ersterem, strukturell betrachtet, weniger um die Dominanz des Todes über das Leben als eher um die grundsätzliche Gleichzeitigkeit von beidem, deren Paradoxie das Filmbild soweit überlastete, dass am Ende nur noch der reine Gegensatz blieb. Das Stroboskop, weiß und schwarz, zuviel Licht und zuwenig Licht: die Extrempunkte des Kinobildes, die gleichzeitig seine Grenzen markieren und überschreiten und so seine Auflösung markieren. Wie aber nun weiter filmen, nachdem man das Kino in die Luft gesprengt hat? Noë macht das vielleicht einzig Schlüssige: Er kreiert einen neuen Kulminationspunkt, nicht unähnlich dem von "Irréversible", und ändert dann seine Blickrichtung.
In "Enter the Void" setzt er dem Konzentrierten von "Irréversible" das bis ins Extrem Weitschweifige entgegen, und der strukturellen Überdetermination die Introspektion. "Enter the Void" ist die zweieinhalbstündige Halluzination eines Sterbenden (und vielleicht letztlich Reinkarnierten), ein immaterieller Stream of Consciousness, arrangiert um eine Reihe fetischistisch umkreister und stetig repetierter Momente aus einem ansonsten eher leeren Lebenslauf. Die Form, in der Noë dies in einen Kinotrip gießt, wird dabei mit zunehmender Laufzeit immer freier: Wenige, prägende Momente bleiben von einem Leben, alles andere scheint sich aufzulösen, immer unschärfer zu werden. "Enter the Void" ist somit ein Film, der seinem Publikum – wenngleich auf ganz andere Weise – nicht weniger zumutet als "Irréversible": Der rabiaten, in den Kinositz pressenden Urgewalt setzt er hier einen seltsam sanften, auch esoterischen, mitunter prätentiösen und in seinen Redundanzen auch betont nervigen Gestus gegenüber, der aus diesem sicherlich essenziellen Beitrag zum Kinojahr 2010 eine nicht eben einfache, aber ungemein bereichernde Kinoerfahrung macht.
Enter the Void
(Frankreich/Deutschland/Italien 2009)
Regie & Buch: Gaspar Noë; Kamera: Benoît Debie; Schnitt: Gaspar Noë, Marc Boucrot; Musik: Thomas Bangalter
Darsteller: Nathaniel Brown, Paz de la Huerta, Cyril Roy, Olly Alexander, Masato Tanno, Ed Spear u. a.
Verleih: Capelight
Länge: ca. 162 Minuten
FSK: n.n.
Kinostart: 26.08.2010