Leider hat man bei der ungeheuren Fülle von Animationsfilmen auf einschlägigen Festivals schnell den einen oder anderen kurzen Happen vergessen. Dass es auch anders geht, beweist die nun als 3-DVD-Box erschienene, mit "Best of Animation" aus dem Hause absolut Medien betitelte Sammlung mit den besten Filmen des Internationalen Trickfilm-Festivals in Stuttgart der letzten drei Jahre (2006-2008). Denn hier kann man sich einige der sehr schönen und vor allem mit viel Liebe hergestellten Animationsfilme ins visuelle Gedächtnis zurückrufen. Eine längst überfällige Entscheidung, einige Highlights des Festivals auf diese Weise zugänglich zu machen, denn selbst bei den vielen Informationsquellen zum Thema im Netz bleibt doch eine derartige äußerst seriös und professionell gestaltete Aufbereitung der Filme dieses Festivals ein Glanzlicht im überquellenden DVD-Markt und gibt den künstlerischen Resultaten eine würdige Plattform, die sie ohne jeden Zweifel verdient haben. Dass dieses 1982 gegründete Festival zu Recht zu den größten und wichtigsten Veranstaltungen zum Animationsfilm in Deutschland gehört, beweist allein die Tatsache, dass jedes Jahr weit über 1.500 Filme eingereicht werden. Getreu dem Motto, dass im Zentrum des Festivals der künstlerische animierte Kurzfilm steht, haben die Herausgeber Dittmar Lumpp und Ulrich Wegenast einige der reizvollsten Animationsfilme der letzten Jahre herausgesucht, gewissermaßen eine "handverlesene Rolle mit den besten Animationsfilmen weltweit" zusammengestellt, wie es treffend im Einführungstext der DVDs heißt.
Dabei ist jede DVD mit einem informativen und recht umfangreichen Booklet ausgestattet, welches die wichtigsten Informationen mit den Angaben zu Regie und Produktion, Herkunftsland, Produktionsjahr und Lauflänge der einzelnen Filme enthält. Etwas unverständlich bleibt allein die Tatsache, dass gelegentlich die Angaben zu den Animationstechniken fehlen, dafür aber die Vertriebsfirmen aufgeführt sind; das erscheint ein wenig rätselhaft, gehören doch beide Informationen unbedingt zu den "technischen Angaben" der Filme und eine einheitlichere Vorgehensweise wäre wünschenswert gewesen. Doch soll dies den Eindruck nicht im geringsten schmälern, dass die Booklets gewissermaßen  als "kleine Festivalkataloge" zu den enthaltenen Filmen dienen können und sollen, denn die kurzen Inhaltsangaben und die ebenfalls enthaltenen Abbildungen zu den Filmen erleichtern die Orientierung enorm und lassen einen hohen Wiedererkennungswert der Filme entstehen. Alle DVDs beinhalten Filme, die in ganz unterschiedlichen Animationstechniken entstanden sind und die damit die ungeheure Bandbreite und das Spektrum der Möglichkeiten des Animationsfilms der vergangenen Jahre aufzeigen.
Herausragende Beispiele auf der ersten DVD sind unter anderem mit "Jam Session", "Ego Sum Alpha et Omega" sowie "Overtime" benannt. Der in klassischer Knetanimation hergestellte Film "Jam Session" der polnischen Künstlerin Izabela Plucinska überzeugt dabei nicht nur durch die aufwendige Technik, sondern insbesondere durch die Story und deren formale Umsetzung. Ein älteres Ehepaar erlebt regelmäßig eine nächtliche Ruhestörung in Form von Konzerten in einer angesagten Musikerkneipe. Was anfänglich nach einer totalen Resignation aussieht, ob der aussichtslosen Lage Schlaf zu finden, entwickelt sich im Laufe der knapp neun Minuten zu einer ganz besonderen Abwechslung im Leben der beiden Protagonisten. Dabei gibt der akzentuierte Einsatz von Licht und Schatten dem Geschehen ein ganz besonderes Flair: nicht zuletzt erinnern viele Einstellungen an impressionistische Gemälde und deren Farbflimmern, wobei auch die charakteristischen Oberflächentexturen der Knetfiguren diesen Aspekt nachhaltig unterstreichen. Jan-Peter Meier hat mit "Ego Sum Alpha et Omega" in gewisser Weise Siegfried Kracauers soziologische Studie über "Die Angestellten" von 1929 in Film-Noir-Optik verarbeitet. Harte Schwarzweiß-Kontraste und die überall zu bemerkenden, äußerst bedrohlich wirkenden Schlagschatten tragen wesentlich zu diesem Eindruck bei. Ein Büroangestellter, sprichwörtlich hineingeworfen in die Welt, der tagtäglich seiner eintönigen Arbeit in einem ständig mysteriös anwachsenden Bürogebäude nachgeht, erlebt die Welt wie in einem surrealistischen Traum und versucht am Ende seinem uniformierten Alltag zu entkommen. Die eindringliche Schilderung des modernen Angestellten gerät zu einer klaustrophobischen Zustandsschilderung und unterstreicht zugleich die Zeitlosigkeit derartiger Phänomene der Angestellten seit dem letzten Jahrhundert. Der Tod des Muppet-Show-Erfinders Jim Henson und seine darüber in Aufregung und Verzweiflung geratenden Kermit-Puppen sind Thema von "Overtime" (Regie: Oury Atlan, Damien Ferrié, Thibault Berland). Eine gleichsam liebevolle wie melancholische Annäherung an eine große Figur des Films. Beinahe unzählige Kermit-Frösche versuchen verzweifelt über diesen Verlust hinwegzukommen. Ihre Welt ist buchstäblich aus den Fugen geraten. Dabei wird von ihnen beinahe nichts ausgelassen, was zu einer Reanimation ihres Schöpfers beitragen könnte bzw. was bei einem normalen Tagesablauf vor dem Tod von Henson maßgeblich war, wie beispielsweise das gemeinsame Einnehmen der Mahlzeiten. Die tragikomische Komponente und die triste Farbgebung des Films, die wunderbar zu den einzelnen Sequenzen passende Musik und die dazu entsprechend arrangierten und computeranimierten Figuren setzen Henson ein Denkmal und verleihen ihm Unsterblichkeit.
Auch die Auswahl der Filme auf der zweiten DVD vermittelt einen ansprechenden Überblick über das reichhaltige Programm mit den Highlights aus dem Jahr 2007. Der Schwede Jonas Odell hat sich beispielsweise in "Nie wie beim ersten Mal" gewissermaßen semidokumentarisch auf der Grundlage von vier Interviews an das mitunter sehr heikle und schwierige Thema vom "ersten Mal" angenähert. Nicht nur die naturbedingt ganz unterschiedlichen Erfahrungen der Interviewten fächert das Thema in all seinen Facetten auf. Auch die unglaubliche Fülle der verwendeten Animationstechniken in den knapp 15 Minuten zur Illustration der einzelnen Erfahrungsberichte unterstreicht in einem optischen Hochgenuss die Aussagen auf ansprechende Weise. Jedes Interview besitzt somit seine ganz eigene individuelle und visuelle Verfasstheit auf der Grundlage einer äußerst gelungenen und einfühlsamen Zusammenführung der vorgetragenen inhaltlichen und der im Film verwendeten formalen Gesichtspunkte, die eigentlich kaum zu beschreiben sind. Der fünfminütige Film "Making of" (Regie: Rémi Chapotot, Damien Tournaire, Aurore Valery) behandelt den scheinbar ganz normalen Alltag der "Starindustrie". Der Drache Mo wird im Handumdrehen ein Star; genauso ist allerdings auch der Absturz vorprogrammiert. Die offensichtlich willkürliche und beliebige Suche nach neuen und unverbrauchten Stars und die mit allen Raffinessen ausgeführte Steuerung des Starkultes zu einer alles überstrahlenden Celebrity-Kultur kann wohl kaum besser als in dieser knappen und sehr unterhaltsamen Form dargestellt werden. So schnell wie der Traum begonnen hat, endet er in einem Alptraum. Dieser lässt allerdings schon wieder die Hoffnung auf eine erneute Ankurbelung der Maschinerie durchscheinen. Die Endlosschleife der heutigen und sehr kurzlebigen Unterhaltungsindustrie und die beliebige Austauschbarkeit ihrer Mitwirkenden werden somit treffend entlarvt.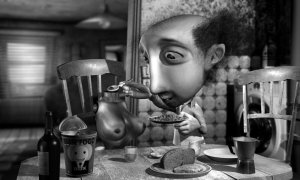 Die dritte "Best of Animation"-DVD enthält insgesamt 13 Filme und verfügt mit über 97 Minuten Lauflänge über das umfangreichste Programm. Hier, wie schon auf den anderen beiden Silberlingen, ist die hohe Qualität der Beiträge ebenfalls bestechend. So wird in "Berni`s Doll" (Regie: Yann J) ein einsamer Fabrikarbeiter geschildert, der in einer riesigen Katzenfutterfabrik (mit interessanten Einblicken in die Herkunft der in den Dosen enthaltenen "Nahrung") schuftet und nach alltäglicher Arbeit am Fließband der heimischen Einsamkeit überdrüssig wird. Dekors und Figurenzeichnung erinnern mitunter an die faszinierenden Kurz- und Animationsfilme eines Tim Burton und die morbide und düstere Atmosphäre wird durch die Handlung, wenn auch mithilfe eines bereits klassisch gewordenen Mythos,  einfallsreich unterfüttert. Der einsame Fabrikarbeiter mutiert dabei zum Schöpfer eines künstlichen Wesens, in diesem Fall einer Sexpuppe aus verschiedenen Einzelteilen sehr unterschiedlicher Herkunft, dessen Geschöpf sich wie bei Victor Frankenstein gegen seinen Urheber richtet und so die ersehnte (sexuelle) Dienstbarkeit in rohe Gewalt und Aggression umschlagen lässt. Ein eher sehr fröhliches und aus dem Leben eines jungen Vaters und seiner knapp einjährigen Tochter gegriffenes Thema bietet "Ihre erste Reise" von Grégoire Sivan. Auf der Zugfahrt zur Mutter des Kindes erleben der Vater und seine Tochter einige sehr turbulente Abenteuer im Zugabteil, die darin gipfeln, dass beide von dieser Situation überfordert sind und bei der Ankunft im Zielbahnhof eher gestresst als entspannt wirken, was natürlich vor allem für den Vater gilt, der alle Hände voll zu tun hat, seinen kleinen Sprössling im Zaum zu halten. Nebenbei hat er aber auch Zeit, über seine neue Situation als fürsorglicher und ein wenig überforderter "Papa" (wie ihn seine Tochter bereits nennt) zu reflektieren. Eine überaus sympathisch wie gleichfalls treffend geschilderte Angelegenheit, voller Witz und Ironie, die nicht zuletzt aufgrund der sehr guten Animation zu überzeugen weiß.
Die DVD-Box bietet insgesamt einen vortrefflichen Überblick über den Animationsfilm der letzten Jahre, und die näher angeführten Beispiele der einzelnen DVDs können wegen der Fülle und der durchweg sehr guten Qualität aller Beiträge nur stellvertretend für das Gesamtpaket stehen. Selbst nach mehrfacher Sichtung der Filme kann immer noch Neues entdeckt werden. Damit soll an den eingangs erwähnten Vorteil des "Filmfestivals für zu Hause" erinnert werden: die Filme können jederzeit ins Gedächtnis zurückgerufen werden – ein Sehvergnügen der ganz besonderen Art.
Steffen Eigl
Die 3-DVD-Box von Kinowelt
34 Filme auf 3 DVDs
Extras: Booklets, Festivalimpressionen, Das Festivalteam
FSK: ab 12 Jahren