Original oder Fälschung? Das Foto der Flaggenhissung auf dem Mount Suribachi gilt als eine der meistreproduzierten Fotografien überhaupt. Der Pressefotograf Joe Rosenthal hielt den Moment, in dem die Eroberung der Insel Iwo Jima durch die US-amerikanische Armee 1945 ihren Kulminationspunkt fand, fest und lieferte mit seinem Bild nicht nur die Vorlage für das berühmte US Marine Corps War Memorial, sondern auch eine der bedeutendsten Darstellungen des Zweiten Weltkrieges. Doch das Bild ist das Ergebnis einer Mogelei: Die eigentliche Flaggenhissung hatte zum Zeitpunkt des Fotos nämlich schon längst stattgefunden und wurde lediglich noch einmal medientauglich nachgestellt. Eine Tatsache, der sich Clint Eastwood mit seinem Film "Flags of our Fathers" zu Beginn des Jahres angenommen hatte.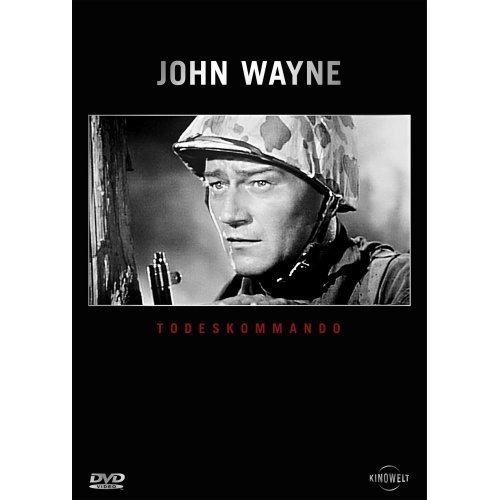 In "Todeskommando" von 1949 (der Film erschien in Deutschland bisher unter den Titeln "Du warst unser Kamerad" bzw. "Todeskommando Iwo Jima"), ist auf die Bilder noch Verlass, ein Mann noch ein Mann, der Feind ein Feind und der Krieg eine Angelegenheit, die die an ihr Beteiligten zwar nicht unbedingt mögen, deren Richtigkeit sie aber nie in Frage stellen. John Wayne ist der eisenharte Sergeant Stryker, der einen Haufen junger US Marines in einem Camp in Neuseeland für die bevorstehenden Auseinandersetzungen im Pazifik vorbereiten soll. Neben den obligatorischen Quertreibern, die er zu disziplinierten Soldaten (und damit auch zu echten Männern) machen muss, hat er vor allem mit sich selbst zu kämpfen. Das Raubein ist durch den Krieg hart geworden, seine Einsamkeit ersäuft er im Alkohol, seine Unfähigkeit, Liebe auszudrücken, manifestiert sich in einem Brief an seinen Sohn, den er in seiner Uniform bei sich trägt, und der im Moment seines Todes von seinen Untergebenen gefunden und prompt verlesen wird. Der Film endet damit in einer unendlich kitschigen, rührseligen Huldigung jener tapferen Recken, die ihr persönliches Wohlergehen zugunsten ihres Landes hintanstellen.
"Todeskommando" ist in vielerlei Hinsicht holprig: Er beginnt als Ausbildungsfilm mit zahlreichen naiven Kapriolen, heiteren und melodramatischen Momenten, springt dann mitten hinein in das Schlachtgetümmel im Pazifik und kehrt noch einmal in das Armeelager zurück, bevor sich Regisseur Allan Dwan dann in den letzten 20 Minuten endlich dem eigentlichen Thema des Films, der Schlacht um Iwo Jima, zuwendet. Auch stilistisch ist der Film kaum als "aus einem Guss" zu bezeichnen. Dem statisch gefilmten Campleben voller alberner Episoden stehen die aufwändigen Schlachteninszenierungen gegenüber, die durch zahlreiche eindrucksvolle Archivaufnahmen unterfüttert werden. Von "echten" Locations (der Film wurde in Kalifornien gedreht) springt die Handlung zu deutlich als solchen identifizierbaren Studiosettings, was dem Film ein sehr uneinheitliches Raumbild verleiht. Und schließlich wird auch inhaltlich kaum ein Thema konsequent und durchgängig entwickelt, vielmehr bietet Dwan ein Panorama, das sich aus zahlreichen Fragmenten zusammensetzt, beständig zwischen halbdokumentarischem Stil und pathetischem Drama hin und her pendelt. So widmet sich der Film gerade in der Ausbildungshälfte ausgiebig den verschiedenen Charakteren, ihren Sorgen und Hoffnungen, und etabliert den Konflikt mit dem unnachgiebigen Ausbilder. Auch in der Darstellung der Kampfhandlungen, bei der Dwan sichtlich um eine realistische Darstellung bemüht ist, bleibt der Fokus streng auf die Amerikaner gerichtet: Der japanische Feind platzt nur höchst vereinzelt in Form eines übermotivierten Säbelschwingers ins Bild, der dann auch unverrichteter Dinge sein Leben aushauchen darf. Allan Dwans Film ist unverkennbar Propaganda, versucht sein Ziel, junge Rekruten für die Armee zu gewinnen, mit der Verklärung des Soldatentums zu erreichen. Im Krieg trifft man Freunde fürs Leben, verrückte Hunde, die im richtigen Moment zur Stelle sind und manchmal auch eine Frau. Wer stirbt, tut dies für die gute Sache, und menschliches Versagen – so tragische seine Folgen auch sind – führt letzten Endes immer zur Läuterung, dient der Mann-Werdung.
So zwiespältig sich Allan Dwans "Todeskommando" aber formal und inhaltlich präsentiert, so interessant ist er doch für denjenigen, der sich auf Spurensuche in der Kriegsfilmgeschichte begibt. So erinnert die Struktur des Films gleichermaßen an Kubricks "Full Metal Jacket" wie auch an Terrence Malicks "Der schmale Grat". Die Landung auf den beiden zu erobernden Inseln hat Steven Spielberg für "Der Soldat James Ryan" einer visuellen Generalüberholung unterzogen, die zermürbenden Stellungsgefechte finden moderne Entsprechungen etwa in John Irwins "Hamburger Hill", die unsichtbaren Feinde lassen an "Apocalypse Now" denken und die einzelnen Charaktere sind so archetypisch angelegt, dass man sie sofort als gute Bekannte identifizieren kann. Allen voran natürlich Sergeant Stryker, den John Wayne einmal mehr als harten Hund mit dunkler Vergangenheit anlegt. Wer an der Geschichte des Kriegsfilms interessiert ist, kommt an "Todeskommando" also kaum vorbei, zumal er sich für ein geschichtsträchtiges Double Feature mit Eastwoods erwähntem "Flags of our Fathers" geradezu aufdrängt.
Todeskommando
(The Sands of Iwo Jima, USA 1949)
Regie: Allan Dwan, Drehbuch: James Edward Grant, Harry Brown, Kamera: Reggie Lanning, Musik: Victor Young, Schnitt: Richard L. Van Enger
Darsteller: John Wayne (Sgt. John M. Stryker), John Agar (Pfc. Peter Conway), Adele Mara (Alison Bromley), Forrest Tucker (Pfc. Al Thomas), Wally Cassell (Pfc. Benny Ragazzi)
Länge: 105 Minuten
Verleih: Kinowelt
Zur DVD von Kinowelt
Kinowelt veröffentlicht "Todeskommando" in für sein Alter beeindruckender Bildqualität, aber leider ohne nennenswerten Extras. Bislang in Deutschland geschnittene Szenen sind im O-Ton eingefügt und mit deutschen Untertiteln versehen.
Bild: 1,33:1
Ton: Deutsch, Englisch (Dolby Digital 1.0 Mono)
Extras: Starinfo John Wayne, Produktionsnotizen, Trailer
Länge: 105 Minuten
FSK: Ab 12
Preis: 9,95
Diese DVD bei Amazon kaufen