Der Kiemenmensch aus Jack Arnolds "Der Schrecken vom Amazonas" ist eine der berühmtesten und beliebtesten Kreaturen des Monsterfilms. Ähnlich wie King Kong repräsentiert er das Unberührte, Unkorrumpierte und Natürliche, das zwar einen unwiderstehlichen Reiz auf den Menschen ausübt, aber all diese Eigenschaften verlieren muss, sobald die Annäherung geschehen ist. Rund zwanzig Jahre nach "King Kong" in den fortschrittseuphorischen Fünfzigerjahren entstanden, nimmt "Der Schrecken vom Amazonas" jedoch eine viel weniger skeptische Perspektive als das Original ein; diese tritt erst im Verlauf der beiden Sequels etwas stärker hervor. Diese beiden Filme – "Die Rückkehr des Ungeheuers" und "Das Ungeheuer ist unter uns" – sind nun von Koch Media in einer schönen Box veröffentlicht worden, zusammen mit dem thematisch verwandten "Der Schrecken schleicht durch die Nacht".
Nachdem die Expedition aus "Der Schrecken vom Amazonas" das Monster schließlich töten musste, um die eigene Haut zu retten, kehrt in "Die Rückkehr des Ungeheuers" ein besser ausgestattetes Forscherteam zu dem Seitenarm des Amazonas zurück, um den (anscheinend doch noch lebenden) Kiemenmenschen einzufangen und ihn zu Forschungszwecken nach Florida zu bringen. Die Exposition des Films dient vor allem dazu, das zweifelhafte Verständnis der Protagonisten von Wissenschaft und Evolution zu etablieren. Jegliche Zurückhaltung oder Demut geht den Wissenschaftlern, die nichts anderes als die Fortsetzung des Cowboys mit anderen Mitteln sind, völlig ab. Ein Wesen, das sich seit Jahrmillionen nicht verändert hat, wird nicht etwa als Sternstunde der Evolution betrachtet, sondern als Laune der Natur, als Evolutionsverlierer diffamiert. Mit ähnlicher Arroganz begegnen die Forscher dem Kiemenmenschen, dessen Wehrhaftigkeit am Ende sehr unsensibel mit Gift und Dynamit gebrochen wird. Es ist ein Wunder, dass er diese Konfrontation überlebt, keines hingegen, dass er in der nun erst über die Ereignisse des Originals hinausgehenden zweiten Hälfte des Filmes, in der er mit Elektroschocks konditioniert werden soll, den Aufstand probt, aus seinem Aquarium ausbricht und eine mittlere Panik verursacht.
Der von John Sherwood inszenierte "Das Ungeheuer ist unter uns" schließt unmittelbar an den zweiten Teil an und schickt ein Forscherteam in die floridianischen Everglades, um das dort heimisch gewordene und frei herumlaufende Monster wieder einzufangen. Das gelingt zwar, doch wird – ganz wie in den beiden Filmen zuvor – der Kiemenmensch dabei so sehr in Mitleidenschaft gezogen, dass besondere Maßnahmen zu seiner Rettung nötig sind. In einer Operation wird die Lunge des Kiemenmenschen aktiviert, bei dem dadurch sofort ein Evolutionsprozess in Gang gesetzt wird, der ihn in ein menschenähnliches Wesen verwandelt. Doch dieser Zustand behagt dem Monster gar nicht: Nach seinem finalen Amoklauf landet es am Strand, wo es sehnsüchtig aufs Meer hinausblickt, das ihm nun für immer verschlossen bleiben wird.
"Der Schrecken schleicht durch die Nacht" greift die Idee der provozierten Evolution auf und konfrontiert einen Wissenschaftler mit einem uralten Fisch, mit dessen Blut er sich infiziert und daraufhin eine gegenüber "Das Ungeheuer ist unter uns" umgekehrte Entwicklung durchmacht: Er verwandelt sich in einen Affenmenschen, der des Nachts über den Campus streift (Originaltitel ist dann auch "Monster on the Campus"). Die Zellen des Fischs reaktivieren das durch die Evolution Überkommene, Überwundene und lassen es die Überhand gewinnen. Der so Infizierte wird also zum von Urinstinkten getriebenen Tier; die naturwissenschaftlich "fundierte" Version von "Dr. Jekyll and Mr. Hyde" quasi.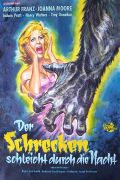 Die drei Filme der "Jack Arnold Collection" sind idealtypische Vertreter des Monsterfilms, den Regisseur Jack Arnold mit seinen Filmen (u. a. auch "Tarantula") ganz en: Vordergründig der Wissenschaft und dem durch diese ermöglichten Fortschritt verpflichtet, wird ein anthropozentrisches Weltbild gemalt, in dem alles, was nicht menschlich ist, entweder verlacht oder einverleibt wird. Das teleologische Konzept – der Mensch ist der Endpunkt der Evolution – lässt nur wenig Platz für andere Spezies. Die Arroganz der Protagonisten mutet aus heutiger Perspektive nahezu erschreckend an, auch wenn man zwischen den Zeilen durchaus auch leise Kritik an der menschlichen Hybris herauslesen kann: Die Hahnenkämpfe, die die Alpha-Männchen der Filme um die weibliche Hauptdarstellerin austragen, machen deutlich, dass auch der Mensch das Tierische nicht vollständig abgelegt hat, die Vernunft ihn nicht total, sondern allenfalls graduell beherrscht. Und trotz ihrer technischen Überlegenheit stehen die Wissenschaftler am Ende mit leeren Händen da, müssen sich den Vorwurf gefallen lassen, Menschenleben fahrlässig geopfert zu haben. Ist der Kiemenmensch nicht gar der bessere Mensch? Man muss Jack Arnolds Monsterfilmen – neben ihrem unbestreitbaren Unterhaltungswert – außerdem zugute halten, dass sie Begriffe wie den der Evolution für die Populärkultur überhaupt erst urbar gemacht haben. Insofern kommt den drei in der Box enthaltenen Filmen beinahe eine aufklärerischer Funktion zu, die zunächst ganz im Widerspruch zu ihrem naiven Inhalt zu stehen scheint. Wenn aber ein normalerweise Jahrmillionen dauernder Entwicklungsprozess in "Das Ungeheuer ist unter uns" in nur wenigen Stunden (bzw. Filmminuten) abläuft oder wie in "Das Grauen schleicht durch die Nacht" rückgängig gemacht wird, dann muss man konstatieren, dass eine sehr anschauliche Darstellungsform für ein sehr abstraktes Konzept gefunden wurde.
Die Rückkehr des Ungeheuers
(Revenge of the Creature, USA 1955)
Regie: Jack Arnold, Drehbuch: Martin Berkeley, Kamera: Scotty Welbourne, Musik: William Lava, Herman Stein, Schnitt: Paul Weatherwax
Darsteller: John Agar, Lori Nelson, John Bromfield, Nestor Paiva, Grandon Rhodes
Länge: ca. 81 Minuten
Verleih: Koch Media

Das Ungeheuer ist unter uns
(The Creature walks among us, USA 1956)
Regie: John Sherwood, Drehbuch: Arthur A. Ross, Kamera: Maury Gertsman, Musik: Irving Gertz, Henry Mancini, Heinz Roemheld, Hans J. Salter, Herman Stein, Schnitt: Edward Curtiss
Darsteller: Jeff Morrow, Rex Reason, Leigh Snowden, Gregg Palmer, Maurice Manson
Länge: ca. 78 Minuten
Verleih: Koch Media

Das Grauen schleicht durch die Nacht
(Monster on the Campus, USA 1958)
Regie: Jack Arnold, Drehbuch: David Duncan, Kamera: Russell Metty, Musik: Irving Gertz, Henry Mancini, Heinz Roemheld, Hans J. Salter, Herman Stein, Frank Skinner, Paul Dessau, William Lava, Schnitt: Ted J. Kent
Darsteller: Arthur Franz, Joanna Cook Moore, Judson Pratt, Nancy Walters, Troy Donahue
Länge: ca. 77 Minuten
Verleih: Koch Media
Zur Box von Koch Media
Koch Media veröffentlicht die drei genannten Filme in einem Pappschuber. Jede einzelne DVD steckt in einem schön aufgemachten Klappcover, das mit dem deutschen Plakatmotiv des jeweiligen Films bedruckt ist. Die Filme liegen in ansprechender Qualität vor, als Extras gibt es Trailer sowie Audiokommentare.
Zur Ausstattung der DVD:
Bild: 1,33:1
Ton: Deutsch, Englisch (Dolby Digital 2.0 Mono)
Extras: Trailer, Audiokommentare, Fotogalerie
Länge: ca. 226 Minuten
Freigabe: ab 16
Preis: 33,95 Euro