Die lebenden Toten und ihre spezifische Sozietät im Verhältnis zu und im Widerstreit mit der des Menschen ist das bestimmende Thema von Romeros Living-Dead-Reihe. Mit jedem weiteren Film wurde die "Gesellschaft" der wiederauferstandenen Toten näher beleuchtet, ja regelrecht (und in Day of the Dead sogar innerhalb der Narration) erforscht. Zusehends verschiebt sich dabei die Perspektive und mit ihr die Sympathie: 1969 waren die lebenden Toten noch geradewegs biblisch-mysteriöse, voneinander kaum unterscheidbare Wesen innerhalb einer wogenden Masse, die ihren ungleich lebendigeren Verwandten aus unerfindlichen Gründen nach dem Leben trachtet – und damit auch ein treffender Kommentar zum seinerzeit herrschenden sozialen Klima der USA, das von inneren Auflösungserscheinungen gezeichnet war.


Die lebenden Toten bilden in diesem Szenario den immer wieder in den Vordergrund drängenden Hintergrund, vor dem sich eine kleine Gruppe ums Überleben Kämpfender in ihrer Ratlosigkeit nach und nach selbst ans Messer liefert. In Dawn of the Dead wird diese Grundstruktur zwar beibehalten – letzten Endes sind es die Menschen selbst, die über sich herfallen (die in das Einkaufszentrum einfallenden Rocker) und es somit den Zombies überhaupt erst ermöglichen, ihr Werk auch weiterhin zu verrichten -, doch erfahren die Zombies bereits eine differenziertere Konnotation: Ihre Kleidung (z.B. die des Krishna-Zombies) macht sie bereits eindeutig einer zwar verloren gegangenen, über kulturelle Codes bestimmten und ermittelbaren Identität zuordbar, der einzelne Zombie gewinnt Charakter, wird in slapstickhaften Szenen seiner Ungeschicklichkeit bloßgestellt und in einigen wenigen Einstellungen bereits als tendenziell melancholisches Wesen vermittelt. Der Zombie wird wieder in die Nähe des Menschen gerückt, das Projekt einer fortschreitenden Uneindeutigkeit zwischen den Parteien wird angeschoben. Bald dämmert es dann auch den Bewohnern der Shopping Mall, dass ihre untoten Widersacher schon fast instinktiv in das Konsumentenparadies drängen, weil sie bereits "früher" gerne und als bestimmenden Teil ihres Lebens hier gewesen sind; sie selbst beeilen sich schließlich, gewissermaßen als Vorform des Zombielebens und um die aufgestellte Hypothese zu stützen, erst mal kräftig shoppen zu gehen.
In Day of the Dead schließlich ist der eigentliche Konfliktherd vollends in die Zone der menschlichen Kultur zurückgedrungen: Keine quasi-kriegerische Auseinandersetzung mit den Zombies steht auf dem Plan, sondern vorrangig die zwischen einer jeder Ratio verlustig gegangenen Logik des Militarismus und des Machismos mit einer (mehr oder weniger) an alten humanistischen Werten orientierten Logik der Wissenschaft und Zivilisierung, die in der zunächst zweckfrei anmutenden Forschung am Zombiegewebe eine Möglichkeit zur Domestizierung und vielleicht sogar Diplomatie mit der Gegenkultur zu entdecken versucht. Das passende Bild für die Zeit der "Reaganomics" und des späten Kalten Krieges. Das Resultat dieser wissenschaftlichen Bestrebungen ist schließlich "Bub", der gesellschaftsfähige Parade-Zombie, der Walkman hört und Comics liest und zum Ende womöglich die abhanden gekommene Sprache wiederfindet. Ein in dieser Welt faszinierendes Zwitterwesen an der Nahstelle beider Gesellschaften, das schlussendlich im Kampf zwischen Mensch und Zombie auch die Seiten wechselt.
Land of the Dead wiederum – 20 Jahre später und an einem interessanten Zeitpunkt in der Geschichte des apokalyptischen Films entstanden, an dem dessen jüngsten Beispiele (etwa Day after Tomorrow oder Spielbergs War of the Worlds, aber eben auch Land of the Dead selbst), nach den amüsant-unverbindlichen Revue-Veranstaltungen des Genres in den 90er Jahren mit ihrer distanzierender Panorama-Optik, wieder einen deutlich grimmigeren Ton anschlagen – führt diese Bewegung des sukzessiven Shiftings zum konsequenten Höhepunkt, indem er, salopp gesagt, die Rollen vertauscht und die Übergangsstellen zwischen Zombies und Menschen deutlich in den Vordergrund rückt.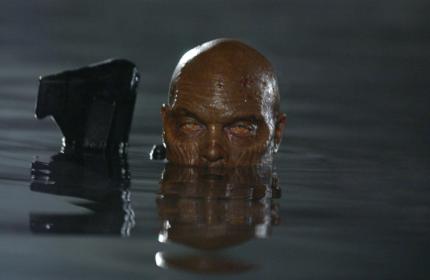 In Land of the Dead hat sich der magere Rest der Menschheit weitestgehend mit der Lage arrangiert. Man hat sich auf einer Halbinsel inmitten einer Metropole verschanzt und gesellschaftlich re-formiert. In der Mitte der Insel ragt Fiddler's Green auf, ein megalomanischer Tower, in dem eine wohlhabende Elite die letzten Reichtümer hortet und konsumiert, sich also im hemmungslosen Eskapismus über die Situation da draußen hinwegtröstet und alte Zeiten wiederaufleben lässt. An der Spitze dieser buchstäblichen High Society steht Kaufman (Dennis Hopper), der in seinem Auftreten wohl nicht zufällig an eine us-amerikanische Führungskraft erinnert. Ringsum des Towers sammelt sich indes eine krude, verkommene Gesellschaft von Habenichtsen und paramilitärischen Einsatzkräften, die sich in dunklen Gassen und Spelunken im post-apokalyptischem Vergnügungs-Zynismus suhlt, wie man ihn auch aus der Mad Max-Reihe kennt. Jenseits der die Insel umgebenden Flüsse liegt der verfallende Rest der Metropole, das Land der lebenden Toten, in das immer wieder raffgierige Plünderexpeditionen unternommen werden, um den relativen Lebensstandard der kleinen Enklave zu halten. Längst schon haben die armen Teufel dieser Todeskommandos eine Skrupellosigkeit entwickelt, die nicht von ungefähr an das Büffelschießen aus Wildwestfilmen erinnert. Die tumb durch die Gegend wankenden Zombies sind nichts anderes als Freiwild, das bei zu großer Nähe unangenehm werden kann.
Ein Zombie – ein Afro-Amerikaner, und wie man weiß will die Hautfarbe bei Romero viel heißen – ist der ewigen Raubzüge und Massaker an seinesgleichen schließlich überdrüssig. Er schnappt sich eine Waffe – erst ein Knüppel, bald eine automatische Schusswaffe – , erlernt schrittweise ihren Gebrauch und schart schließlich die Horden der lebenden Toten um sich, die es ihm bald gleich tun: Während rings um Fiddler's Green innere Konflikte aufbrechen und den letzten Rest Zivilisation in Frage stellen, beginnt vor den Toren der Festung der lange Marsch der lebenden Toten auf die parasitär agierende Zelle inmitten der Metropole …
Romeros aktuellster Kommentar zum Zeitgeschehen könnte wohl kaum drastischer ausfallen: Die letzten Überbleibsel der Menschheit sind ein moralisch verkommener, eitler, selbstsüchtiger Haufen, die sich für die Geschehnisse außerhalb ihres Mini-Soziotops nicht weiter interessieren und nach innen hin eine unüberwindbare Hierarchiestufe zwischen Superreichen und Superarmen installieren. Die Sympathieträger unter ihnen lassen sich an einer Hand abzählen. Sie scharen sich um Riley (Simon Baker), den Anführer einer kleinen Miliz, die gelegentlich für Plünderungen auszieht.
An seiner Seite steht Charlie (Robert Joy), ein an der Grenze zum Autismus in sich verkrochener, treffsicherer Scharfschütze mit halbverbranntem Gesicht und kaum nennenswertem Artikulationsvermögen. Er ist vielleicht die interessanteste Figur im ganzen Ensemble: Nicht umsonst wird er bei seinem ersten Auftritt aufgrund seiner äußeren Erscheinung für einen Zombie gehalten; seine niedrige Intelligenz und sein hohes Geschick an der Waffe rücken ihn bewusst in die Nähe des schwarzen Anführers der Untoten, der wiederum schon fast ein Mensch sein könnte. Romero unterstreicht diese Uneindeutigkeit noch, welche die ganze Dichotomie zwischen Zombies und Menschen und damit die Unvereinbarkeit beider Gesellschaftsentwürfe in Frage zu stellen vermag, indem er mal die eine, mal die andere Hälfte von Charlies Gesicht im Dunkeln lässt und ihn so bald als Zombie, bald als Menschen zeichnet.
Die Schar der Untoten hingegen, die von Beginn an als ausgebeutete und drangsalierte Gruppe erscheint, kann sich der nicht mal mehr klammheimlichen Sympathie sicher sein. Obgleich an sich die überwältigende Masse, sind sie doch nichts anderes als die marginalisierte Multitude an der sozialen, kulturellen und wirtschaftlichen Peripherie, die unnachgiebig ins Zentrum drängt (Romero nötigt einen regelrecht, in Michael Hardts und Toni Negris Polit-Philosophie Empire nachzuschlagen). Dieses Zentrum, die verschanzte Insel mit ihrem weithin sichtbaren Turm, ist dabei unschwer – und schon alleine aufgrund ihrer topografischen Anlage als Halbinsel zwischen zwei Flüssen inmitten einer Metropole – als Spiegelbild Manhattans zu erkennen, Fiddler's Green schließlich als die Twin Towers des WTC und Dennis Hoppers Figur (der sogar Zitate seines realen Vorbilds in den Mund gelegt werden) als George W. Bush.
Auf einen Nenner gebracht, zeichnet Romero hier das Bild einer sich rigide gegen die Welt abschottende und an ihr Raubbau begehende USA, die im Inneren zur Stabilisierung der Verhältnisse einen rigorosen sozialen Unfrieden pflegt, damit aber überhaupt erst die Möglichkeit und Bedingung ihrer Überwindung hervorbringt. Während sich ihre Eliten mittels Luxus in Weltvergessenheit einschläfern, gilt Romeros Sympathie klar den Zombies, jenen marginalisierten Freaks, die sich nun erstmals organisieren, zur Waffe greifen und das System schlussendlich in seinen Grundfesten erschüttern. Entsprechend inszeniert er sie erstmals als eine Heerschar von höchst individuellen Charakterköpfen und lässt seine Kamera ein geradewegs inniges Verhältnis zu ihnen pflegen. Den Fan der Reihe dürfte dies nur erfreuen, kann man sich doch nun endlich an den hervorragend gestalteten Untoten satt freuen. Die menschlichen Figuren indessen neigen, nicht unbedingt zum Vorteil des Films, allesamt eher zur Blässe. Viele Gründe, dieser post-apokalyptischen Gesellschaft eine auch weiterhin blühende Zukunft zu wünschen und entsprechend mit ihr mitzufiebern, gibt Romero dem Zuschauer ohnehin nicht an die Hand.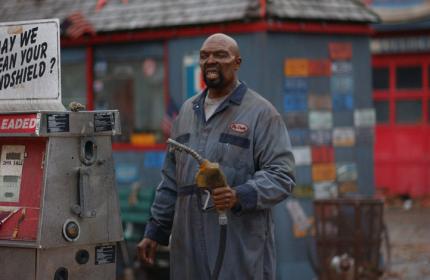 Alles beim Alten, könnte man also meinen. Romero setzt seine Zombiereihe inhaltlich und motivisch konsequent fort, erneut hat er wieder viel zu kommentieren, und der Holzhammer, der die Rhetorik seines Vortrags bildet, ist auch bald 40 Jahre nach Night of the Living Dead noch immer gut in Schwung. Dass er sich gar nicht erst bemüht, seine Zombiesaga inhaltlich und ästhetisch aktuellen und gewiss gewinnträchtigeren Produktionen anzunähern, ist ihm dabei zumindest respektvoll anzurechnen. Auch die beibehaltene, weitgehende Ironiefreiheit ist ein Plus. Zombies und Spezialeffekte sind so toll wie nie, und in zahlreichen Actionszenen zeitigt er mittels exzellenter Kameraführung, sorgfältiger Montage und edlem Sounddesign ungemein ruppige somatische Wirkungen. So wuchtig wurde bei Romeros Zombies jedenfalls noch nie zu Werke gegangen. Zwar gab es zu Savinis Zeiten deutlich mehr zu sehen, doch gelingt es Romero durch allerlei scheußlich gestrickte Saftigkeiten auf der Tonspur den vielleicht "körpernahsten" Splatterfilm seiner Karriere vorzulegen. Das flutscht und reißt und squeezt und quillt, dass es nur eine Art hat. Der jüngst eingeschlagene Weg des Kinos, sich zusehends vom Primat der Sichtbarkeit zu entfernen und stattdessen die akustische Ebene mit ins Zentrum der Aufmerksamkeit zu rücken, um auf den Zuschauerkörper eindringlich einzuwirken, wird hier konsequent weiterbeschritten (und nicht zuletzt deshalb ist Passion of the Christ ja auch so ein unsagbar dummer Film).
Und dennoch, trotz alldem bleibt nach dem Film ein leicht säuerlicher Nachgeschmack zurück. Land of the Dead ist keiner dieser Reinfälle, wie sie Romero zuvor beinahe schon in Serie produziert hatte, er ist aber eben auch keiner der Klassiker, aus der die Reihe zuvor ausschließlich bestand, und es sieht auch nicht danach aus, als könnte er mal eines Tages zu dieser Riege stoßen. Gewiss ist Land of the Dead aus genannten Gründen eine recht respektable Fortsetzung, die nicht den Nimbus des vollkommen Unnötigen mit sich trägt. Unzufriedenheit bleibt dennoch.
Es liegt vielleicht zum einen dran, dass Romero seinen Film zwar ohne Ende voll haut mit kommentierenden Parallelen und aufgeladener Polit-Rethorik, doch will es ihm, wie noch in allen vorangegangenen Teilen, nicht recht gelingen, die Besonderheit der sich mal hierhin, mal dorthin verzweigenden Spielhandlung direkt aus dem politisch aufgeladenen Szenario abzuleiten und mit diesem nahtlos zu verschweißen. Alle aufwändig bemühten Parallelen und Hints kommen über den Status einer Theaterkulisse nicht hinaus, vor der sich etwas abspielt, was nur in einigen wenigen Aspekten unbedingten Bezug zu seinem Hintergrund hat. Waren alle bisherigen Filme der Reihe noch Musterbeispiele für eine kompakte, ökonomisch ungemein wirkkräftige Verdichtung von Szenario, Parabel und mitreißender Story, wirken in Land of the Dead alle Bestandteile merkwürdig lose auf- und nebeneinander gereiht.
Entsprechend legt der Film sein Hauptaugenmerk auf einige in der Tat hervorragend inszenierte Actionnummern, die allerdings, wiederum im Gegensatz zu den Vorläufern, nie eine wirklich direkte Verbindung mit dem Szenario aufbauen, sondern oft genug lediglich für sich stehen. Im restlichen Filmgeschehen hingegen ist weitgehend formal konzeptlose Öde angesagt. Die Kameraarbeit wirkt willkürlich, immer ist man viel zu dicht an den Personen dran, das einstige Gespür für Bildaufbau und wirkungsvolle Montage scheint Romero in den letzten Jahren komplett abhanden gekommen zu sein. Land of the Dead wirkt deshalb über weite Strecken merkwürdig altbacken, gerade so, als hätte ein ins Alter gekommener Regisseur die moderne Technik nicht mehr recht im Griff und es im Laufe der Zeit obendrein noch verpasst, so etwas wie gediegene Altmeisterlichkeit zu entwickeln. Die interessanten Verschiebungen im Motiv des Zombies und die oben geschilderte, formal reizvolle Auflösung der optischen Drastiken wirken deshalb schon fast verschenkt. Stände hier nicht Romeros Name im Vorspann, würde der Film in einem dafür passenden Umfeld – sagen wir: dem Fantasy Filmfest – vermutlich kaum weiter auffallen, sondern lediglich als einer von vielen weiteren seiner Art verbucht werden.
Es hätte gewiss weitaus schlimmer werden können – und vielleicht muss man schon zufrieden sein, dass Romero die mit Bruiser erreichte Talsohle in seinem Werk nun offenbar hinter sich gelassen hat. Aber so widerwillig man sich dies vielleicht eingestehen möchte, Zack Snyder hat es im letzten Jahr eben doch – und nun eben auch dem einstigen Großmeister des Subgenres – vorgemacht, wie man einen grimmig-blutigen, dramaturgisch mitreißenden, formal und ästhetisch erhabenen und auch inhaltlich keineswegs leergeputzten Zombiefilm heutzutage gestaltet. Anhand eines Remakes von Dawn of the Dead, ausgerechnet.
Land of the Dead
(USA 2005)
Regie/Buch: George A. Romero; Kamera: Miroslaw Baszak; Schnitt: Michael Doherty;
Darsteller: Simon Baker, John Leguizamo, Dennis Hopper, Asia Argento, Robert Joy,
Eugene Clark, Joanne Boland, Tony Nappo, Jennifer Baxter, u.a.
Verleih: UIP
Länge: 93 Minuten
Thomas Groh